Hampton Inn & Suites Boise-Downtown
43.61217

,

-116.20532
144US$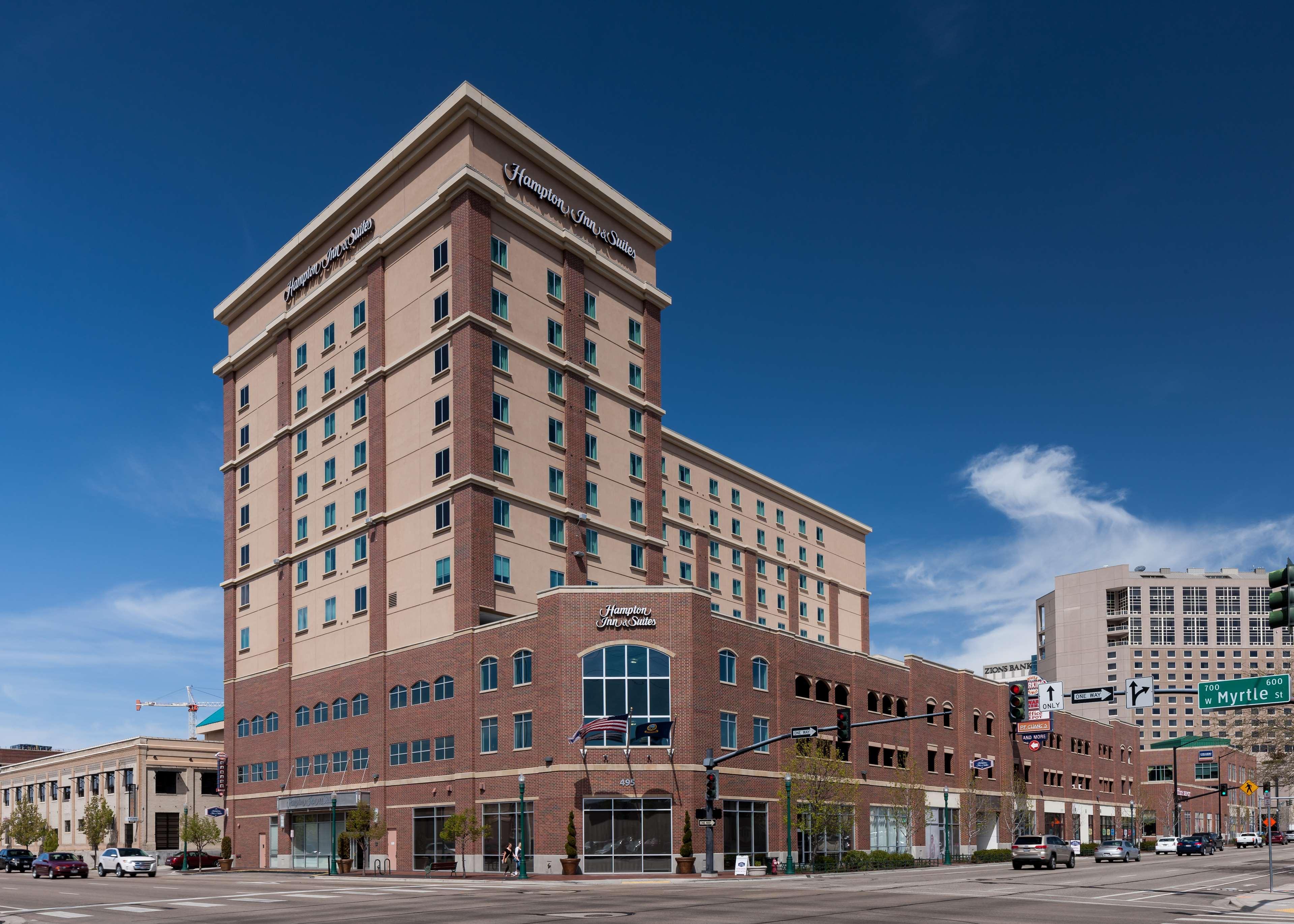 Address
495 S Capitol Blvd.
,
Boise
,
Idaho
,
United States
,
83702
, Idaho
Overview
Located in the heart of Boise, the 3-star Hampton Inn & Suites Boise-Downtown offers fast access to Zoo Boise, which helps break from routine and stands around 0.4 miles away. Featuring 186 rooms with views of the mountain, this inn is set within a short ride from Boise State University.
Location
The Boise hotel is based 900 feet from Qwest Arena and 0.7 miles from North End. Cultural sights in the area are the friendly science museum "Discovery Center of Idaho" (0.5 miles) and Boise Art Museum (0.4 miles). Surrounded by shops, a market and designer boutiques, the property is favorable for shopping lovers. Hampton Inn & Suites Boise-Downtown is close to Knitting Factory Boise Event Venue and within walking distance of the rose garden "Julia Davis Park".
This hotel is located 0.5 miles from Boise airport and close to Capitol & Myrtle SEC bus stop.
Rooms
The rooms feature facilities like coffee/tea makers as well as a flat-screen TV with satellite channels for guests' entertainment. Ironing facilities and climate control are featured for guests' comfort. The private bathrooms feature a hairdryer and guest toiletries.
Eat & Drink
The wine bar Bodovino lies near this Boise accommodation.
A buffet breakfast is served and charges are applicable. 
Leisure & Business
Focused on the needs of travelers, The Hampton Inn & Suites Boise-Downtown offers a gym and an indoor swimming pool. Guests can work out in a gym facility. Hampton Inn & Suites Boise-Downtown also offers a Jacuzzi and an indoor pool. Business travelers will have access to a 24-hour business center provided on site.
Internet
Wireless internet is available in the entire hotel for free.
Guest Parking
Public parking is possible on site at USD 15 per day.
Year renovated:   2007.  Number of floors:   11.  Number of rooms:   186.
Best-Rated Hampton Inn Hotels around Boise
Hampton Inn is a famed hotel brand that prioritizes the comfort and convenience of its guests. The brand's value lies in its personalized service, clean and spacious rooms, and sumptuous breakfast spread. The hotel also offers a range of amenities like a fitness center, pool, and free Wi-Fi to make the stay of guests enjoyable. Experience the ultimate relaxation at Hampton Inn.
10 reviews

159$ / night

14 reviews

117$ / night

19 reviews

148$ / night

102 reviews

126$ / night

4 reviews

163$ / night

15 reviews

144$ / night

66 reviews

194$ / night

62 reviews

129$ / night
Facilities
Most popular facilities
24-hour services
24-hour reception
24-hour security
Swimming pool
Indoor swimming pool
Saltwater pool
Spa and relaxation
Jacuzzi
Spa & wellness center
General
Wi-Fi
Parking
24-hour services
Food/ Drinks
Fitness/ Gym
Swimming pool
Spa and relaxation
Sports & Fitness
Fitness center
Snowsports
Golf course
Services
Room service
Bicycle rental
Laundry
Dry cleaning
Dining
Breakfast
Restaurant buffet
Business
Business center
Meeting/ Banquet facilities
Fax/Photocopying
Children
Board games
Children's play area
Game room
Spa & Leisure
Saltwater pool
Indoor swimming pool
Spa & wellness center
Jacuzzi
Room features
Air conditioning
Sitting area
Tea and coffee facilities
Ironing facilities
Bathroom
Bath/ Shower
Hair dryer
Free toiletries
Media
Flat-screen TV
Direct dial telephone
AM/FM alarm clock
Good to know
Check-in
from 15:00-23:00
FREE
Check-out
until 12 pm
FREE
Children & extra beds
There are no cribs provided in a room. 
Pets
Pets are allowed on request.
Rooms and availability
Queen Room Mobility accessible

Bed options:

Max:

2 persons
Queen Studio Mobility or hearing accessible

Bed options:

Max:

4 persons
King Room Hearing accessible

Location
495 S Capitol Blvd.
,
Boise
,
Idaho
,
United States
,
83702
, Idaho
City landmarks
Nearby
Restaurants
Hotels nearby
Public Building
Idaho State Capitol Building
2700 ft
1910 University Dr
Albertsons Stadium
1.1 mi
Museum
Discovery Center of Idaho
2700 ft
University
Boise State University
4600 ft
210 N 9th St
Freak Alley Gallery
2600 ft
Public Building
Ada County Courthouse
2900 ft
Church
St. Michael's Episcopal Cathedral
2800 ft
Church
First United Presbyterian Church
3000 ft
Church
Cathedral of St. John the Evangelist
3900 ft
Park
Kathryn Albertson Park
1.1 mi
18 N. Warm Springs Ave
Natatorium Pool & Hydrotube
2800 ft
Park
Ann Morrison Park
4700 ft
2603 W Eastover Ter
Boise Train Depot
4900 ft
233 S Capitol Blvd
CenturyLink Arena Boise
900 ft
Museum
Idaho Black History Museum
1900 ft
611 W Grove St
Basque Museum and Cultural Center
1900 ft
Museum
Idaho Anne Frank Human Rights Memorial
1900 ft
Museum
Idaho Historical Museum
600 ft
Bridge
Capitol Boulevard Memorial Bridge
1500 ft
404 S 8th St
Sports Humanitarian Hall of Fame
1900 ft
Library
Boise Public Library
900 ft
Market
The New Boise Farmers Market
1700 ft
300 South Capitol Boulevard
110 S 5th St
Belgravia Building
1500 ft
Restaurant
Meraki Greek Street Food
900 ft
Restaurant
Kiwi Shake and Bake
800 ft
Restaurant
Boise Fry Company
1800 ft
You can book a shuttle, once your reservation is complete.
Reviews of Hampton Inn & Suites Boise-Downtown
Freddie

I had a great experience at the hotel! The room was spacious and very clean. I also appreciated the hotel's facilities - the breakfast was delicious and the parking was easy to access. Plus, the staff was extremely friendly and helpful, providing me with maps and restaurant suggestions. The location was fantastic, with many attractions and restaurants within walking distance.

No issues!

Terry

This hotel exceeded my expectations! The staff was incredible- they were friendly, helpful, and went above and beyond to make us feel at home. We had an amazing complimentary breakfast each morning, and the location was perfect for exploring the area. The rooms were clean and comfortable, and we especially appreciated the complimentary toiletries. we had a wonderful stay.

There were some minor issues with our check-in process, but the staff was quick to resolve them and make sure we were taken care of. Additionally, the hotel could have had more parking options for guests. However, these issues did not detract from the overall great experience we had at this hotel over Easter.

Howard

The staff were courteous, the room was spotless and immaculate with mountain view as well as free breakfast. The breakfasts except for non real eggs scrambled.

Stephen

The location was great for exploring downtown and enjoying a romantic getaway. We loved the complementary snacks and water in the room, as well as the free airport shuttle. The breakfast had a good selection of options and the pastries were particularly tasty.

Our room was incredibly noisy due to the elevator right next door. The constant sound kept us awake all night, which made it hard to enjoy our stay. The parking situation was also a hassle, as the garage was difficult to navigate. the negatives detracted from what could have been a lovely experience.

Donald

Our Easter weekend stay was a mixed bag. On the positive side, we loved the complimentary breakfast and the fact that the staff were very helpful in pointing us to local restaurants and attractions that were open during the holiday weekend. Additionally, the location was excellent for exploring the downtown area by foot, with many shops and restaurants just a short walk away.

There were a few downsides to our stay as well. One of the biggest issues was that the parking situation was less than desirable, with no designated spots for hotel guests and stalls that were too small and difficult to maneuver in. Additionally, the pool area was quite crowded and noisy, which made it difficult to relax and enjoy ourselves. while we appreciated the positive aspects of our stay, the negatives were significant enough to detract from our overall experience.

Bill

The staff were courteous, welcoming. The room was immaculate with an exceptionally comfortable bed and with free breakfast. The service was excellent, that made the hotel amazing place.

William

This hotel is located in a bustling area surrounded by several restaurants which provide great dining options for guests. The breakfast served here is delicious and nutritious including smoothies and cold pressed juices. The view from the rooms is mesmerizing and adds to the beauty of the location. If you are a fitness freak, this hotel also has some excellent leisure facilities like a gym and pool.

One aspect of the hotel needs improvement.

George

Fantastic experience there. Clean hotel, wonderful staff & magnificent and ideal location in the heart of downtown. Breakfast with continental included and also non real eggs scrambled. New building and rooms with free breakfast.

Eric

Its central location.

Spotless rooms, spectacular view of downtown.

Phil

I didn't want to leave and would definitely return here. The place was fairly clean and staff were top-class, I loved magnificent location. Location: the hotel was just off downtown, museums and the capital.

missing

I liked the very clean rooms that were very large and affordable. The beds were really comfortable, and we had no trouble sleeping.

missing

Beautiful facility. Very clean and comfortable and the location can't be beat - walking distance to all downtown Boise has to offer and a great location if you're seeing a show at the Centurylink Arena.

Parking is $12 per day, which seems kind of steep.

missing

Proximity to downtown, clean updated rooms, comfortable bed. Nice bathrooms. Parking was convenient and greatly appreciated. Included breakfast was good and convenient.

Elevators were slow and over-busy. No bar or restaurant, surprising considering the cost.

missing

The staff went out of their way to make sure every need was taken care of and they were all smiling and happy. My kids made messes during breakfast and the kitchen staff brought them each a toy instead of getting upset. When a very minor problem was brought to their attention, they gave our entire family tickets to the zoo to make up for it.

People smoked right in front of the no smoking signs.

missing

bed was great and the room was very quiet so I had a sound sleep

nothing